RUBY-CELL INTENSIVE 4U DAILY MASK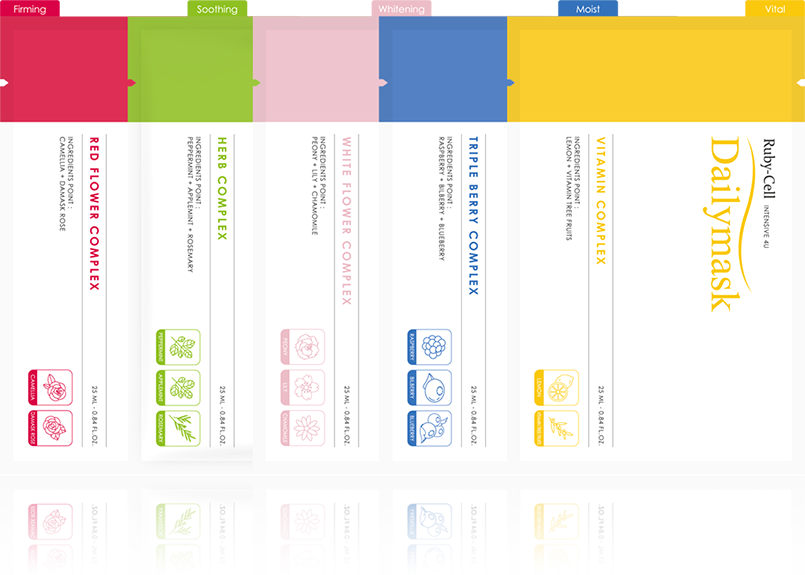 COMPLETED SKIN IRRITATION TEST
HIGHLY ADHESIVE!
ULTRAFINE FIBER SHEET

It gently and tightly adheres
to the skin in accordance
with the contours of the face through the use
of ultrafine fiber fabric to enable the essence
to be effectively absorbed into the skin.

FULL OF MOISTURE AND
GLOWING SKIN

Provides sense of moisture
that shines moistly on the skin
with moisture locking effect that prevents quick evaporation of the essence.
FEATURES of the PRODUCT
RUBY-CELL INTENSIVE 4U DAILY MASK
With the mask pack that contains 5 different efficacies including
vitality to skin, moisturization, whitening, soothing and resilience,
you can make choices of the mask pact to use according to your skin conditions.
MOISTURE
WHITENING
FIRMNESS
INGREDIENT
Nelumbo Nucifera Leaf Extract

Echinacea Purpurea Extract

Swertia Chirata Extract
VITAL MASK INGREDIENT
Hippophae Rhamnoides Fruit Extract

Citrus Limon (Lemon) Fruit Extract
MOIST MASK INGREDIENT
Rubus Fruticosus (Blackberry) Fruit Extract

Vaccinium Angustifolium (Blueberry) Fruit Extract
WHITENING MASK INGREDIENT
Chamomilla Recutita (Matricaria) Flower Extract

Paeonia Lactiflora Extract
SOOTHING MASK INGREDIENT
Mentha Piperita (Peppermint) Leaf Extract

Rosmarinus Officinalis (Rosemary) Flower/Leaf/Stem Extract
FIRMING MASK INGREDIENT
Rosa Damascena Extract

Camellia Japonica Flower Extract
Ingredients table
Product Name
RUBY-CELL INTENSIVE 4U DAILY MASK
Human stem cell conditioned media 3,000ppm contained. / 1sheet
Completed skin irritation test
Whitening, anti-wrinkle functional cosmetics.
Ruby-Cell Intensive 4U Daily Mask Vital
Completed examination for functional cosmetics by the Ministry of Food & Drug Safety (201900095736)
Ruby-Cell Intensive 4U Daily Mask Moist
Completed examination for functional cosmetics by the Ministry of Food & Drug Safety (201900095749)
Ruby-Cell Intensive 4U Daily Mask Whitening
Completed examination for functional cosmetics by the Ministry of Food & Drug Safety (201000095759)
Ruby-Cell Intensive 4U Daily Mask Soothing
Completed examination for functional cosmetics by the Ministry of Food & Drug Safety (201900095821)
Ruby-Cell Intensive 4U Daily Mask Firming
Completed examination for functional cosmetics by the Ministry of Food & Drug Safety (201900095827)
Efficacy/effect
Assists with whitening and improvement of wrinkles in the skin.
Effective ingredients
Niacinamide and adenosine
Volume
25ml / 0.84 fl. oz. x 5sheets
How to Use
1. Take the mask pack out and attach to the face by aligning the edges and holes.
2. Take about 10~20 minutes of rest to allow the essence to be fully absorbed into the skin.
3. Take of the mask pack and allow the remaining contents to be evenly and thoroughly absorbed into the skin
Ingredients

<RUBY-CELL INTENSIVE 4U DAILY MASK VITAL>

Water,Glycerin,Dipropylene Glycol ,Niacinamide ,Acrylates/C10-30 Alkyl Acrylate Crosspolymer,Xanthan Gum ,Hydroxyethylcellulose,Adenosine ,Chlorphenesin,Betaine,Trehalose,Allantoin,Panthenol,Disodium EDTA,Ethylhexylglycerin,Propanediol,Polyglyceryl-10 Laurate,Polyglyceryl-10 Myristate,Saccharide Isomerate,Citric Acid,Sodium Citrate,Hydrogenated Lecithin,Cetearyl Olivate ,Sorbitan Oleate,1,2-Hexanediol,Cetearyl Alcohol,Ceramide NP,Sodium Hyaluronate Crosspolymer,Hydrolyzed Glycosaminoglycans,Sodium Hyaluronate,Benzyl Glycol,Hydrolyzed Hyaluronic Acid,Hyaluronic Acid,Raspberry Ketone,Biosaccharide Gum-4,Human Stem Cell Conditioned Media ,Acrylates/Beheneth-25 Methacrylate Copolymer,Diphenyl Dimethicone,Triethylhexanoin,Polyglyceryl-10 Oleate,Sucrose Palmitate,Butylene Glycol,Nelumbo Nucifera Leaf Extract,Glyceryl Glucoside,Maltodextrin,Swertia Chirata Extract,Echinacea Purpurea Extract,Arginine,Citrus Limon (Lemon) Fruit Extract,Hippophae Rhamnoides Fruit Extract,Fragrance

<RUBY-CELL INTENSIVE 4U DAILY MASK MOIST>

Water,Glycerin,Dipropylene Glycol ,Niacinamide ,Acrylates/C10-30 Alkyl Acrylate Crosspolymer,Xanthan Gum ,Hydroxyethylcellulose,Adenosine ,Chlorphenesin,Betaine,Trehalose,Allantoin,Panthenol,Disodium EDTA,Ethylhexylglycerin,Propanediol,Polyglyceryl-10 Laurate,Polyglyceryl-10 Myristate,Saccharide Isomerate,Citric Acid,Sodium Citrate,Hydrogenated Lecithin,Cetearyl Olivate ,Sorbitan Oleate,1,2-Hexanediol,Cetearyl Alcohol,Ceramide NP,Sodium Hyaluronate Crosspolymer,Hydrolyzed Glycosaminoglycans,Sodium Hyaluronate,Benzyl Glycol,Hydrolyzed Hyaluronic Acid,Hyaluronic Acid,Raspberry Ketone,Biosaccharide Gum-4,Human Stem Cell Conditioned Media ,Acrylates/Beheneth-25 Methacrylate Copolymer,Diphenyl Dimethicone,Triethylhexanoin,Polyglyceryl-10 Oleate,Sucrose Palmitate,Butylene Glycol,Nelumbo Nucifera Leaf Extract,Glyceryl Glucoside,Maltodextrin,Swertia Chirata Extract,Echinacea Purpurea Extract,Arginine,Rubus Fruticosus (Blackberry) Fruit Extract,Vaccinium Myrtillus Fruit Extract,Vaccinium Angustifolium (Blueberry) Fruit Extract,Fragrance

<RUBY-CELL INTENSIVE 4U DAILY MASK WHITENING>

Water,Glycerin,Dipropylene Glycol ,Niacinamide ,Acrylates/C10-30 Alkyl Acrylate Crosspolymer,Xanthan Gum ,Hydroxyethylcellulose,Adenosine ,Chlorphenesin,Betaine,Trehalose,Allantoin,Panthenol,Disodium EDTA,Ethylhexylglycerin,Propanediol,Polyglyceryl-10 Laurate,Polyglyceryl-10 Myristate,Saccharide Isomerate,Citric Acid,Sodium Citrate,Hydrogenated Lecithin,Cetearyl Olivate ,Sorbitan Oleate,1,2-Hexanediol,Cetearyl Alcohol,Ceramide NP,Sodium Hyaluronate Crosspolymer,Hydrolyzed Glycosaminoglycans,Sodium Hyaluronate,Benzyl Glycol,Hydrolyzed Hyaluronic Acid,Hyaluronic Acid,Raspberry Ketone,Biosaccharide Gum-4,Human Stem Cell Conditioned Media ,Acrylates/Beheneth-25 Methacrylate Copolymer,Diphenyl Dimethicone,Triethylhexanoin,Polyglyceryl-10 Oleate,Sucrose Palmitate,Butylene Glycol,Nelumbo Nucifera Leaf Extract,Glyceryl Glucoside,Maltodextrin,Swertia Chirata Extract,Echinacea Purpurea Extract,Arginine,Paeonia Lactiflora Extract,Lilium Candidum Flower Extract,Chamomilla Recutita (Matricaria) Flower Extract,Fragrance

<RUBY-CELL INTENSIVE 4U DAILY MASK SOOTHING>

Water,Glycerin,Dipropylene Glycol ,Niacinamide ,Acrylates/C10-30 Alkyl Acrylate Crosspolymer,Xanthan Gum ,Hydroxyethylcellulose,Adenosine ,Chlorphenesin,Betaine,Trehalose,Allantoin,Panthenol,Disodium EDTA,Ethylhexylglycerin,Propanediol,Polyglyceryl-10 Laurate,Polyglyceryl-10 Myristate,Saccharide Isomerate,Citric Acid,Sodium Citrate,Hydrogenated Lecithin,Cetearyl Olivate ,Sorbitan Oleate,1,2-Hexanediol,Cetearyl Alcohol,Ceramide NP,Sodium Hyaluronate Crosspolymer,Hydrolyzed Glycosaminoglycans,Sodium Hyaluronate,Benzyl Glycol,Hydrolyzed Hyaluronic Acid,Hyaluronic Acid,Raspberry Ketone,Biosaccharide Gum-4,Human Stem Cell Conditioned Media ,Acrylates/Beheneth-25 Methacrylate Copolymer,Diphenyl Dimethicone,Triethylhexanoin,Polyglyceryl-10 Oleate,Sucrose Palmitate,Butylene Glycol,Nelumbo Nucifera Leaf Extract,Glyceryl Glucoside,Maltodextrin,Swertia Chirata Extract,Echinacea Purpurea Extract,Arginine,Mentha Piperita (Peppermint) Leaf Extract,Mentha Suaveolens Leaf Extract,Rosmarinus Officinalis (Rosemary) Flower/Leaf/Stem Extract,Fragrance

<RUBY-CELL INTENSIVE 4U DAILY MASK FIRMING>

Water,Glycerin,Dipropylene Glycol ,Niacinamide ,Acrylates/C10-30 Alkyl Acrylate Crosspolymer,Xanthan Gum ,Hydroxyethylcellulose,Adenosine ,Chlorphenesin,Betaine,Trehalose,Allantoin,Panthenol,Disodium EDTA,Ethylhexylglycerin,Propanediol,Polyglyceryl-10 Laurate,Polyglyceryl-10 Myristate,Saccharide Isomerate,Citric Acid,Sodium Citrate,Hydrogenated Lecithin,Cetearyl Olivate ,Sorbitan Oleate,1,2-Hexanediol,Cetearyl Alcohol,Ceramide NP,Sodium Hyaluronate Crosspolymer,Hydrolyzed Glycosaminoglycans,Sodium Hyaluronate,Benzyl Glycol,Hydrolyzed Hyaluronic Acid,Hyaluronic Acid,Raspberry Ketone,Biosaccharide Gum-4,Human Stem Cell Conditioned Media ,Acrylates/Beheneth-25 Methacrylate Copolymer,Diphenyl Dimethicone,Triethylhexanoin,Polyglyceryl-10 Oleate,Sucrose Palmitate,Butylene Glycol,Nelumbo Nucifera Leaf Extract,Glyceryl Glucoside,Maltodextrin,Swertia Chirata Extract,Echinacea Purpurea Extract,Arginine,Camellia Japonica Flower Extract,Rosa Damascena Extract,Fragrance
Cautions for use
1. Stop using and consult a dermatologist if you suffer any of the irregular symptoms or side effects such as red spot, swelling or itching during or after use or by direct sunlight.
2. Do not apply on skin where there is wound and such.
3. Cautions for storage and handling.
A) Use by avoiding areas around the eyes.
B) Keep it out of reach of children
4. Keep away from direct sunlight.
Make sure to familiarize with the how to use and precautions at the time of use prior to the use of the product.
Customer service
213-251-1000
If there is something wrong with the product, you can get compensation according to the Fair Trade Commission Notice of Consumer Dispute Resolution Standards.
Manufacturing No. and Expire Date
Seperately marked
Manufacturer
DASAN C&Tech Co., Ltd. 98, Samdo-ro, Yangchon-eup, Gimpo-si, Gyeonggi-do, Republic of Korea
Distributor
Aphrozone USA, 8939 S Sepulveda Blvd Ste 102 Los Angeles CA 90045
Country of manufacturing
Republic of Korea