RUBY-CELL GOOOOD LIFE
EETNIEE DENTAL CARE TOOTHPASTE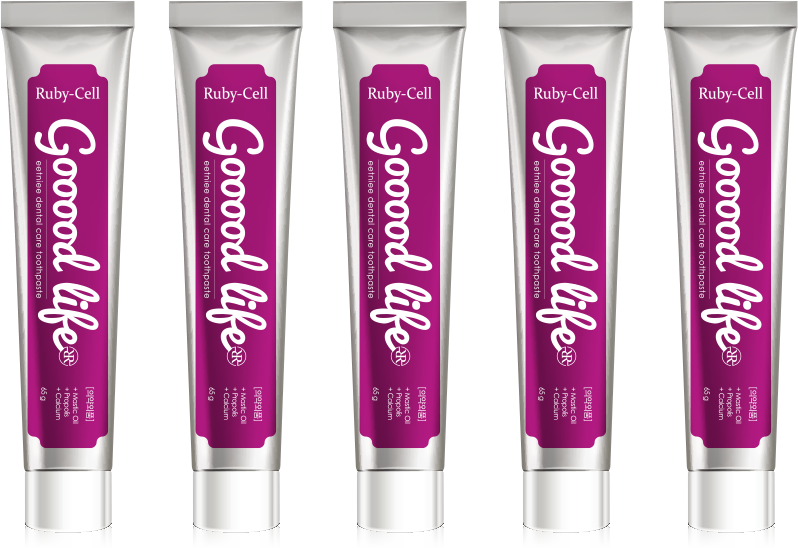 Quasi-drug
MAINTAIN STRONG AND
HEALTHY GUMS!

Improves the diseases of gum and
produces strong and healthy gums
by suppressing the causal pathogens
of periodontal diseases.

TOTAL CARE FOR ORAL HEALTH

Maintains the oral cavity clean and
prevents dental caries
by suppressing the proliferation of germs
that cause dental caries and
acidification of oral cavity.
FEATURES of the PRODUCT
RUBY-CELL GOOOOD LIFE EETNIEE DENTAL CARE TOOTHPASTE
Ruby-Cell toothpaste contains various nature-derived ingredients and
is an excellent toothpaste that assists with the dental health of the entire family
by solving the fundamental diseases of the gums.
PREVENTION OF
DENTAL DISEASE
GINGIVITIS
PREVENTION
PREVENTION OF
CAVITIES
REMOVING
BAD BREATH
ORAL
CLEANSING
INGREDIENT
Menthol

Xylitol

Anthemis Nobilis Flower Extract

Propolis Extract
Ingredients table
Product Name
RUBY-CELL GOOOOD LIFE EETNIEE DENTAL CARE TOOTHPASTE
Efficacy/effect
This keeps your teeth white and strong and the inside of your mouth clean and refreshed.
It further prevents cavities and removes bad breath, enhancing the aesthetic effects.
Removal of Plaque (Anti-Plaque), Prevention of gingivitis and periodontitis (periodontoclasia), Prevention of periodontal disease, Prevention of gum disease
Volume
65g x 5EA
How to Use
Put appropriate quantity on toothbrush and brush teeth in accordance with proper brushing method.
Ingredients
Hydrated Silica,Sodium Fluoride,Tocopheryl Acetate,Sorbitol,Peg-32,Sodium Saccharin,Xylitol,Calcium Glycerophosphate,Sodium Citrate,Sodium Benzoate,Titanium Dioxide,Blue 1 (CI.42090),Xanthan Gum,Cellulose Gum,Glycerin,Sodium Lauryl Sulfate,Propolis Extract,Camellia Sinensis Leaf Extract,Anthemis Nobilis Flower Extract,Commiphora Myrrha Resin Extract,Pistacia Lentiscus (MASTIC) Gum,Menthol,Flavor,Water
Cautions for use
1. The toothpaste contains 995 ppm of fluoride.
2. Be careful not to swallow, and rinse the mouth thoroughly after using.
3. If the toothpaste causes damages in the gums or mouth, etc., stop using it and have a checkup with a doctor or dentist.
4. For children aged 6 years or under, be sure to use only a small, pea-sized amount of the toothpaste per use and use it under the supervision of an adult to prevent it from being ingested.
5. If a child aged 6 years or under swallows a large amount of the toothpaste, have a checkup with doctor or dentist immediately.
6. Keep out of reach of children aged 6 years or under.
7. This drug contains sodium benzoate, and benzoic acid can cause mild irritation on the skin, eyes and mucous membranes.
Make sure to familiarize with the how to use and precautions at the time of use prior to the use of the product.
Customer service
213-251-1000
If there is something wrong with the product, you can get compensation according to the Fair Trade Commission Notice of Consumer Dispute Resolution Standards.
Customer Service / mechine
1522-7151
Manufacturing No. and Expire Date
Seperately marked
Manufacturer
DASAN C&Tech Co., Ltd. 98, Samdo-ro, Yangchon-eup, Gimpo-si, Gyeonggi-do, Republic of Korea
Distributor
Aphrozone USA, 8939 S Sepulveda Blvd Ste 102 Los Angeles CA 90045
Country of manufacturing
Republic of Korea